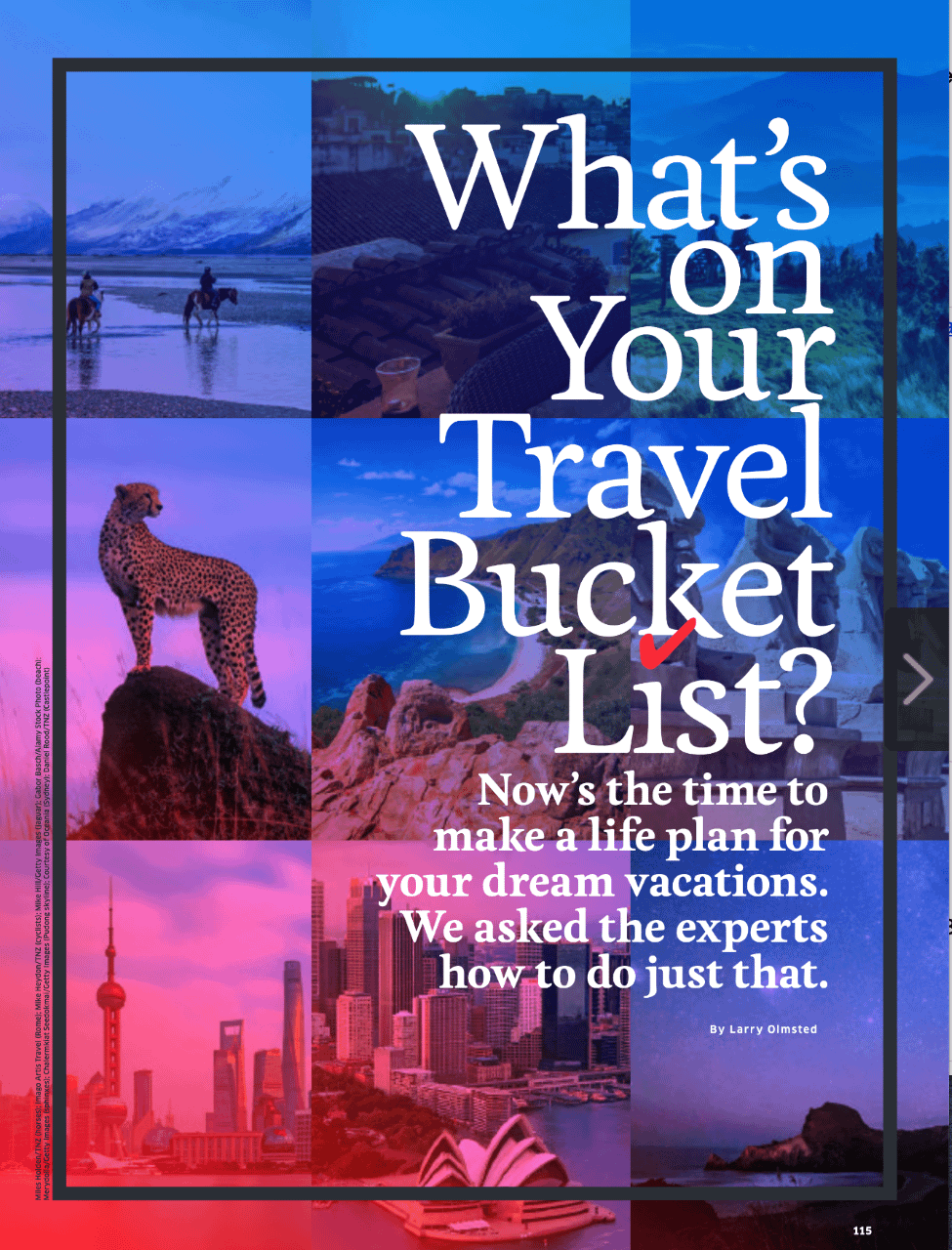 Featured in the United Airlines Hemispheres Magazine in an article by Larry Olmsted.
"Now's the time to make a life plan for your dream vacations. We asked the experts how to do just that.
…Tania Swasbrook, VP of operations at Travelworld International Group, meanwhile, is planning her family's travel with her 8-year-old daughter in mind. "The legacy I want to leave her is to be a citizen of the world," she says. "It's important to me that she hits all the major civilizations—Mexico, India, China, Japan, Greece, Egypt, and so on but you can't just do that off the cuff; you have to be strategic."
The key, she stresses, is to make a list and start simple. For her, that means saving trips to Japan or Egypt for when her daughter is older, since there's so much to learn. "Planning is for the future—not just Christmas vacation or where to go next summer, but years down the road."
Of course, travel has looked a little different this year. The old adage, "You don't know what you got till it's gone" has proved especially true for leisure travelers during the pandemic, and the silver lining may be that travel will become an even more important priority when normalcy returns.
Acknowledging the uncertainty of life goes hand in hand with realizing the importance of making every trip count—and not putting off the ones that are personal musts. Time spent in isolation can be used productively to discuss, reflect, research, and ultimately emerge with a better sense of the places you want to visit, not to mention the people you want to go with. "More than ever, people crave human contact in their travel," Ezon says. "Multigenerational travel with families and reunion travel with friends were already big trends, but they will greatly accelerate after this. We are already seeing increased interest."
Typical bucket-list items include safaris and trips to UNESCO World Heritage sites and the polar regions, but increasingly, travel industry experts note a shift away from places and toward experiences. For instance, people want to go on a safari to engage with wildlife and experience Africa, not just to say they've been to a specific country, such as Kenya or Tanzania or Botswana. "It's not just where and when anymore, it's why," Caruso says. "Even though this is a list, the kinds of trips people are putting on it are about experiencing something, not just checking them off."